The man stoned to death for blasphemy was mentally disabled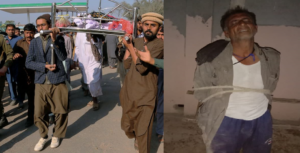 The man who was killed by an enraged mob on accusations of blasphemy in Khanewal area of Pakistan Saturday evening is found out to be mentally disabled.
The enraged mob had killed him with stones, sticks, axes, kicks and fists on accusations of blasphemy and put his body on display by hanging it down a tree. The victim was no other but mentally ill namely Rana Ishtiaq alias Nanha. He was suffering from mental illness for 16 years.
Also read:
Pakistan: Mob kills, tries to burn another man over alleged blasphemy in area of Molana Tariq Jamil 
Ishtiaq, son of Rana Bashir Farooqi, was a resident of Chak 12 AH, Khanewal. His father died several years ago while his real and step mothers are alive. Ishtiaq had 13 siblings. One of his sisters is living at Talamba, an area of Deobandi Televangelist Molana Tariq Jamil. Jamil or any other religious or political leader have not issued any condemnation statement in this regard. On the day of the incident, Ishtiaq went to Talamba to see his sister and ended up entering the mosque when he could not find the house of his sister, Rana Zulfiqar, brother of Ishtiaq said.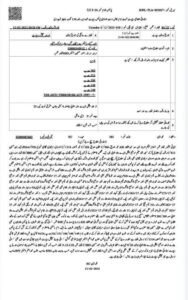 Locals found him too dirty to enter the mosque and went berserk and killed him mercilessly by accusing him of blasphemy. Talamba Police have handed over his body to his brother Zulfiqar. According to Zulfiqar, Ishtiaq was under treatment with Psychiatrist Col ® Sher Ali and they sold all 6-acre agricultural land of the victim to bear the expenses of his treatment. Most of the siblings of the victim had moved to Karachi. The victim was not in contact with any of his family members for two weeks. He had been missing for several years before he returned to his house last year.
According to the police sources, before the arrival of the police, they had already killed him. They injured Mian Channu Saddar Police station SHO Iqbal Shah when he tried to stop the mob from setting the body on fire. Later more police personnel reached the place of occurrence and placate the mob by shouting Allah o Akbar and sloganeering against the victim and in appreciation to the killer mob.
The charged mob killed him and hanged his body with a tree to put it on display near Masjid Shah Muqeem, where the incident took place. The mosque is built on a bus station and there are no houses around it.
The police have registered an FIR under section 7 of Anti Terrorism Act, and sections 302, 353, 186, 148 and 149 of the Pakistan Penal Code. Total 33 are nominated accused while another 200 to 300 are unidentified.
Two months ago in December, a mob had killed a Sri Lankan manager of a factory in the Sialkot district of Pakistan. Such cases of vigilantism find 'justification' in Pakistan because of the country's controversial blasphemy law. Pakistan, an Islamic state, has notoriously draconian laws against blasphemy, which carry the death sentence. The laws are often used against religious minorities and those accused are sometimes lynched before their case goes to court. The culture of fear around blasphemy cases means judges are often too afraid to find the accused anything other than guilty.
One of Pakistan's most infamous blasphemy cases is that of a Christian woman, Asia Bibi, who was sentenced to death in 2010 after being accused of blasphemy by her co-workers. Almost a decade later she was acquitted after heavy international pressure.