Police want Ahmadis undertaking not to perform Qurbani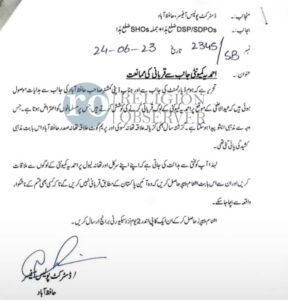 As Eidul Azha comes, with many other occasions, so do hard times for Ahmadiyya community in Pakistan. It proves like a regular exercise to spread hate against them on the basis of their religious beliefs. This Eid is no exception either and at different social and state levels a campaign is already started to stop them from performing qurbani (slaughtering animals), which they consider as their religious obligation like Muslims.
Reportedly Hafizabad District Police Officer has issued a circular directing heads of all police stations of the district to take written undertaking from Ahmadis not to perform Qurbani. The SPO issued this circular following the direction of the Deputy Commissioner of the district. The reason behind the issuance of this circular mentioned in it is that Muslims in the area have objections over Ahmadis performing Qurbani which can create unrest in the area.
Eidul Azha is one such occasion which brings a hard time for Ahmadis collectively in various parts of the country. Other such occasions include Eid Mildad ul Nabi (PBUH), and September 7, which anti Ahmadis celebrate as Khatam-e-Nabuwwat Day to commemorate the declaration of Ahmadis as non Muslims in Pakistan in 1974.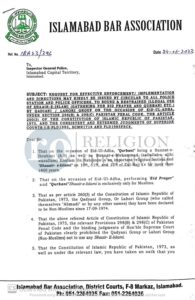 Already Islamabad Bar Association has written a letter to the Inspector General Police, Islamabad Capital Territory requesting him to stop Ahmadis from performing Qurbani, citing the fact that Ahmadis had been declared Non Muslim since 1973 and that the Pakistan Penal Code does not allow them posing as Muslims. Separately, in Faisalabad SP Usman Munir Saifi has been forcing Ahmadis to sign surety bonds undertaking that they would not sacrifice animals on Eid.
On previous Eids, in some districts like Lahore, Anti Ahmadi mullas get active and raid the houses of Ahmadis with the help of police to get Ahmadis arrested if they are found performing Qurbani.