Ahmadi Murabbi's parents won't attend his sentencing in the US for sexually blackmailing minors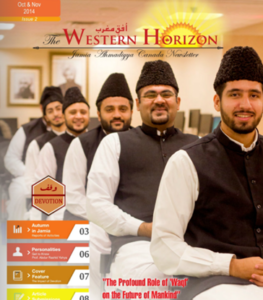 Parents and siblings of a Canadian Ahmadiyya Missionary would not attend his sentence hearing in the United States on the charges of producing pornography of at least five minor girls and sexually blackmailing them.
Missionary Rana Muhammad Luqman (34) is in a US jail for 16 months. He has already pled guilty and his sentence would be announced on 8th of this month.
In separate two letters, copies of which are available with Religion Observer, the parents, brother and sister-in-law of Luqman have informed the court of their inability to attend the court proceedings. However, they have tried to convince the court to award him lesser punishment for him being not involved in any other criminal activities.
Mr Rana Muhammad Zakaria and Ms Amatul Slam in their letter dated March 29, 2023, asked judge Xinis that the defendant is their youngest child amongst the three children. They said they are 72 and 69 and it would be very difficult for them to be physically present in the court fearing life threatening medical issues.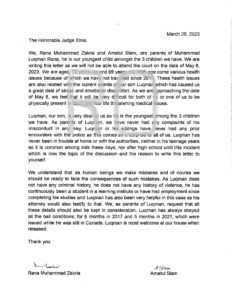 "Luqman, our son, is very dear to us ……and we never had any complaints of his misconduct", they said, adding that he never had any prior encounters with the police like other kids of these days. They requested the court to keep details of his good conduct in consideration while awarding his punishment. They said that once released by the court, Luqman is most welcome at our house.
The other letter is written by Rana Muhammad Daud and Durr-e-Samin, brother and sister-in-law of Luqman. They also expressed their inability to attend the court hearing due to their jobs and responsibilities toward their three young children. They said, Luqman is dear to us and we had been living in the same house from 2005 to 2017. As parents of 3 children, we have never had any complaints of his misconduct in any way. We never noticed any misconduct or suspicious behavior of Luqman with out children. They also requested the court to keep the good deeds of Luqman in consideration before sentencing him.
Rana confessed that he met victims on the websites Omegle, Tinychat, and Microsoft email platform. He used to convince the victims to pose in sexually suggestive ways and then surreptitiously recorded to sexually blackmail them in the future, he admitted. He confessed that between June 2014 and June 2016, he engaged in thousands of email communications with children under the age of eighteen through which he sexually blackmailed them into producing and sending him images of child pornography via both live transmission and email communications. Rana made this confession in his 11-page plea bargain application.
Under this plea bargain agreement, the office of the US attorney and the defendant have agreed upon a maximum of 32 years imprisonment, and a $ 205,100 fine. If the defendant fails to pay the fine when it is due, he has to pay it with interest. However, it is not binding upon the court to give him a sentence according to this agreement. It can reduce or increase the sentence. The document said the court may forfeit all assets of the accused
The accused was a resident of Peace Village, the Canada headquarters of the Jamaat-e-Ahmadiyya. The alleged offenses took place between June 2014 and June 2016, when Luqman Rana was in the final year of his seven-year-long Shahid Program to become an Ahmadiyya Missionary at Jamia Ahmadiyya, a Designated Learning Institution in Canada.
According to pages 9 and 10 of the June–July 2015 issue of Jamia Ahmadiyya Canada's newsletter The Western Horizon, a copy of which is available with Religion Observer, Rana graduated as a missionary in 2015 with six other students. A copy of this issue of the magazine was taken down from the Jamia Ahmadiyya website since Rana's case started to get media attention.
The Toronto police arrested Rana on March 24, 2017, after receiving information from the National Child Exploitation Coordination Centre in Ottawa. He was released on bail but later was arrested in January 2022 when another case of this series was reported. He is under detention since then.