Ahmadiyya missionary to pay $21000 compensation to his sex survivors in the US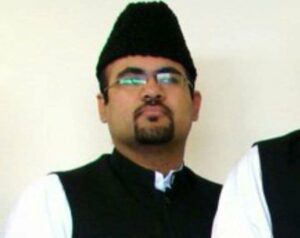 An Ahmadiyya preacher has agreed to pay $ 21374 as financial compensation to two of his sexually blackmailed minor survivors in a US court where he would be sentenced Monday.
Muhammad Luqman Rana, a Canadian Ahmadi Murabbi incarcerating in a US jail for 16 months, has made this undertaking through his lawyer in his 12-page memorandum in aid of sentencing to request the court to give him a lesser punishment. The defendant has made this undertaking on a restitution request from two of his five victims. One victim has requested the amount totaling $2,624.80 and the second victim has requested restitution in the total amount of $18,750.
This amount is arranged by the parents of the accused and they have provided funds to his lawyer to pay this amount to the clerk of the court after the final judgment in this matter.
Requesting the court for a lesser punishment, Rana's counsel submitted that Rana has accepted full responsibility for his conduct therefore he entered a guilty plea in this matter.
He said, Rana was a lonely and somewhat isolated child and had very little social interaction spending most of his time in front of a television or computer. The majority of his social interactions and relationships with those outside of his family were experienced on-line through MSN Messenger in his younger days. These interactions were exciting for him, he spent increasingly more time online, and socializing online quickly became his primary source of social contact, the lawyer said. He did not participate in sports, hobbies, or other endeavors outside of school. He spent most of his free time in his bedroom, on his computer, seeking social connection in the virtual online world.
As Mr. Rana got older, he began reaching out to women and girls in the pattern of behavior that forms the basis for his convictions herein. The behaviors became habits and compulsions to connect, converse with, and engage in sexual interactions with girls online. He felt mounting shame as he indulged in these addictive behaviors. The age of the woman or girl on the other end of the conversation did not matter to him, he said. His addictive behavior was indiscriminate. The internet and anonymous websites like Omegle provided ample opportunities to interact with women and girls who were also lonely and/or prone to risky on-line behaviors and therefore vulnerable to Mr. Rana's attempts at sexual interaction and control, the lawyer added.
He said, in all other respects, Rana has led a law-abiding, studious, and charitable life. He graduated in 2007 from Maple High School, Maple, Ontario, Canada. He attended and worked at Ahmadiyya Muslim Jamaat Canada from 2018-January, 2021. He was married, generously charitable making cash donations to many causes within his Jamaat in excess of $20,000 over 5 years between 2017 and 2021 and he was a blood donor, he added.
Rana has been in various forms of detention related to this matter since 2017 when he was first linked to the KingCheetah email account. He was arrested in Canada on January 14, 2021, was held in confinement and then released to home confinement on February 16, 2021, in the custody of his Father and later his wife. He was rearrested again in July 23, 2021 pursuant to the extradition request which eventually brought him before this Honorable Court. He was extradited on January 25, 2022 and made his initial appearance the next day. He has been in custody since that time.
Defendant has been confined in Lehigh County Jail near Allentown, Pennsylvania since he arrived in the United States. As such he has not had any visitors. Rana's wife has since decided to divorce him due to the lengthy minimum sentence she knew he will receive and her need to move on with her life, he said.
The accused is a resident of Peace Village, the Canadian headquarters of the Jamaat-e-Ahmadiyya. The alleged offenses took place between June 2014 and June 2016, when Luqman Rana was in the final year of his seven-year-long Shahid Program to become an Ahmadiyya Missionary at Jamia Ahmadiyya, a Designated Learning Institution in Canada.
The Toronto police arrested Rana on March 24, 2017, after receiving information from the National Child Exploitation Coordination Centre in Ottawa. He was released on bail but later was arrested in January 2022 when another case of this series was reported. He is under detention since then.