Indonesia: Govt demolishes minaret, remove Kalima from Ahmadi place of worship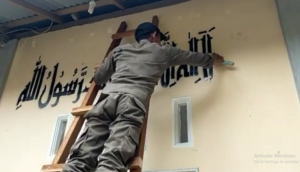 By Rana Tanveer
The local government with the help of police have demolished a minaret of an Ahmadi place of worship and removed Kalima from the building.
A number of police officers reached the place of worship – Miftahul Huda – on January 29, 2022, early in the morning and removed Kalima written on the façade of the building. They also demolished the minaret removing any symbols making this building look like a mosque.
A district chief in Indonesia's West Kalimantan province had ordered the demolition of this mosque. Jarot Winarno, head of Sintang district, ordered the Ahmadiyya community in Balai Harapan to demolish the building. Winaro said the place of worship had no permit and was an "unlicensed building functioning as a house of worship." He gave the Ahmadi community 14 days to demolish it. "If the demolition is not carried out within that period, then it will be carried out by the Sintang district government," he wrote.
This Ahmadi place of worship was attacked by anti-Ahmadi elements on 3 September last year. The Pontianak District Court on Jan. 6 imprisoned 21 for four months for attacking the building and setting fire to a nearby building in Balai Haram, Sintang district.
In this area, local chapter of the Jamaat was set up in 2004 comprising 20 families. This mosque was constructed in 2007. The police had sealed this mosque on August 14 last year and stopped Ahmadis from using it. Removing kalima and demolishing minarets of Ahmadi mosques is normal in Pakistan but it is the first incident of its kind in Indonesia.
In July 2010, a mob of 200 Indonesians surrounded an Ahmadi place of worship in Manislor village in Kuningan district, in the province of West Java. The mob pelted the mosque with stones before being dispersed by the police. In 2011, Ahmadis faced widespread calls for a total ban in Indonesia.