How Sikhs Became A New Target Of India's Hindutwa And Voted No To BJP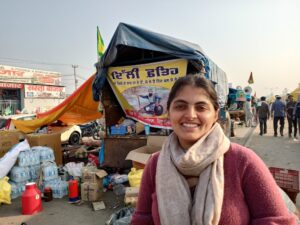 Election results in India show a crushing defeat for Prime Minister Narendra Modi's Bharatiya Janata Party in the northern farming state of Punjab, the heart of Sikhism. While Punjab has never been a BJP stronghold, it's the worst performance for the party in the state in two decades.
The Hindu-first party campaigned heavily in the state, hoping to sway Sikhs to the BJP as well as polarize Hindus. But in the end, the BJP only bagged two seats out of 117 in the state's legislative assembly. The Aam Aadmi Party — which until now has only ruled Delhi, India's capital, at the local level — won 92 seats in Punjab. The win could turn the fledgling party into a national party that competes with India's historic Congress Party as the main opposition against the BJP. About 21 million Indians follow Sikhism — less than 2 percent of the national population but 58% of Punjab.
The Punjabi Sikhs' rejection of the BJP is due to a growing perception that there is anti-Sikhism among Modi's party — even though Modi toured Punjab in three political rallies for the BJP ahead of polling in February and party leaders have tried to cast Sikhs as being close to Hindus and opposed to Muslims.
In January, Modi's cavalcade was prevented from holding a political rally in Punjab. Several farmers' unions protested his visit to the state by blocking roads so that Modi's vehicle had to turn back to Delhi. Tens of thousands of farmers, many Sikhs from Punjab, protested in camps near Delhi in 2020-2021 against three farm acts passed by India's parliament in 2020. The protesters argued for minimum price supports for crops to prevent corporations from controlling the prices. Many farmers in India earn low incomes on small-scale agriculture, battling high suicide rates and crippling debt.
The forced cancellation of Modi's rally became a cause for concern for the Sikh community in India. BJP officials alleged a security breach and a threat to the prime minister's life. While leaving, Modi reportedly told airport officials, "Thank your chief minister, I was able to escape alive."
The allegation of a security breach and a threat to Modi's life in Punjab, a Sikh-majority state, was followed by a deluge of online hate speech against Sikhs in India. Threats of a "repeat of 1984" were widely shared online, some of which even came from BJP leaders.
An extensively shared tweet was, "A tree had fallen in 1984 and the earth shook. He (Modi) is Mount Everest. There will be total devastation." The tweet was a derivation of a speech from former Congress Party Prime Minister Rajiv Gandhi — remembered as his justification for the anti-Sikh "pogrom" — organized killings — that took place after his mother, Indira Gandhi, was assassinated by her Sikh body guards in 1984. While the Indian government recorded less than 4,000 deaths, independent estimates counted as many as 17,000 Sikhs killed in riots nationwide.
The online calls for a new Sikh genocide drew sharp reactions from Giani Harpreet Singh, the chief of the Akal Takht, the highest spiritual seat of Sikhism, who asked the BJP government to take action against "hate terrorism."
Speaking to ReligionUnplugged.com, Harjinder Singh Dhami — president of the Shiromani Gurdwara Prabandhak Committee, the top elected body of the Sikhs — said, "The genocide calls and threats of repeating 1984 Sikh massacre was an attempt to murder Sikh sentiments, which is unacceptable."
This, however, was not the first time anti-Sikh hate speech was witnessed in India but rather the latest in a series of similar targeting of Sikhs.
Role of the Farmers' Protest
On Jan. 26, 2021, thousands of farmers — who had been protesting against the BJP government's farm laws in sit-in demonstrations for months — marched into Delhi. It was Republic Day, an annual holiday celebrating the Indian Constitution that in Delhi features a citywide parade. Protesting farmers entered the historic Red Fort — a symbol of independent India — climbed a tower of the fort and hoisted the religious flag of Sikhs, called the Nishan Sahib, that had become a symbol of the farmers' protest.
While many farmers also flew the Indian tricolor flag, the images of the Sikh flag hoisted atop the Red Fort fueled an anti-Sikh narrative in right-wing and social media: that Sikh Indians were "traitors," "extremists" and "anti-national."
Modi described people participating in peaceful protests as "parasites" while a BJP minister's son reportedly attacked farmers in a hit-and-run incident.
At the time, farmer leader Balbir Singh Rajewal alleged that the government was purposefully trying to stir tensions between Hindus and Sikhs. In the following days, a surge of posts on social media called for Indians to repeat the 1984 Sikh massacre. A right-wing group reportedly protested and chanted the slogan "Khalistan murdabad!" — which means "death to Khalistan!" — outside a Sikh temple in Delhi.
Khalistan is the name of a desired sovereign state inside North India and Pakistan that some Sikh separatists advocate for. The Khalistan movement peaked in the 1980s and led to an armed insurgency in Punjab and an Indian military operation under former Prime Minister Indira Gandhi that launched attacks on the holiest Sikh shrine and several other "gurdwaras" — Sikh places of worship — in Punjab to capture Sikh militants. While the Indian government recorded 554 militant and civilian casualties, independent estimates put the death toll much higher: up to 20,000, including clashes with villagers and soldiers. The global Sikh community strongly condemned the military operations at Sikh temples, seeing the actions as an attack on the religion itself and civilian pilgrims.
It is this history that worries Sikhs when they hear Hindu nationalist groups label them "Khalistanis."
"The Sikh community is angry with the BJP not just because of how it dealt with the issue of the farm laws but also because of the constant demonizing of Sikhs," Baljinder Maan Singh, a farmer leader associated with the Bharatiya Kisan Union, told ReligionUnplugged.com. "This anger (was) visible in the elections."
Sikhism, Hinduism and the RSS
For a long time, the Rashtriya Swayamsevak Sangh — the prominent Hindu nationalist organization that is credited with the successful growth of the BJP — has viewed Sikhism as an extension of Hinduism. Sikhism was founded by Guru Nanak in 15th century Punjab and shares theories of karma and reincarnation with Hinduism but is monotheistic. The founders of Sikhism tried to abolish some Hindu customs, like the caste system, and emphasized equality for all people and community service.
Recently, BJP leaders have tried to portray Sikhs as being close to Hindus and opposed to Muslims.
"The Hindutva (Hindu nationalist) ideology believes Sikhism is a sect of Hinduism, while Christianity and Islam are foreign religions," Manjeet Singh, former professor of sociology from Punjab University,  told ReligionUnplugged.com. "However, Sikhs don't accept this, and therefore, all religious minorities at some point find themselves in contradiction with the right-wing."
Not very long ago, Giani Harpreet Singh had even called for a ban on RSS after its chief Mohan Bhagwat said, "Bharat (India) is Hindustan, a Hindu Rashtra (nation)," adding that "all Bharatiyas are Hindus."
While the BJP has regularly cited Operation Blue Star — the military attacks on Sikh temples that killed civilians — as a stain against the Indian National Congress, BJP stalwarts L.K. Advani and Atal Bihari Vajpayee were part of a sit-in protest demanding armed forces be sent inside the Golden Temple, Sikhism's holiest site. BJP and RSS leaders were also booked for their involvement in the 1984 carnage.
In recent years, targeting of the Sikh community has only increased while simultaneous attempts have been made to assimilate Sikhism with Hinduism.
"The farmers' protest emerged as the biggest challenge for the BJP ever since it came to power in 2014 and the Sikh community from Punjab remained dominant in the protests," said Navkiran Natt, an active figure in the farmers' protest who is also one of the founders of the Trolley Times. "That is probably when the BJP realized their ideology of Hindutva cannot further incorporate Sikhs."
Courtesy: Religion Unplugged