Muslim man charged for desecrating cross, insulting church
A Muslim man is charged for desecrating the cross installed by a church in the Green Town area of Lahore city of Pakistan.
Accused Muhammad Bilal climbed the 40-feet high cross installed by One In Christ Church, Hafiza Chowk, Green Town, tried to take it down and chanted slogans of Allah-o-Akbar. The church caters the Christian community of Hafiz chowk, Nayi Abadi, Green Town. A crowd of the Christian community gathered there but no one physically tried to stop him fearing backlash from the majority Muslim community.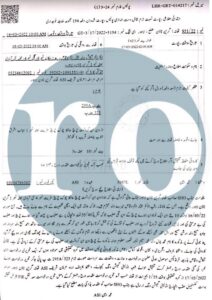 Dr Mukhtar M Waqas, founder bishop of the church, said the accused jumped down the cross post and people of the Christian community surrounded him fearing he might be dead. Meanwhile, he said, they called Police Rescue 15. Before the arrival of the police, two accomplices of Bilal arrived to help him escape from the scene but the residents of the Christian locality did not let them, he said. Seeing the police arriving, those two guys succeeded in fleeing however they handed over the main accused to the police, Dr Waqas said.
On the application of M M Akash, son of Dr Waqas, Green Town police have registered an FIR against accused Muhammad Bilal under section 265-A (hurting religious feelings of any class by insulting Its religion or religious beliefs), and section 325 (attempt to commit suicide) of Pakistan Penal Code.
In the FIR, the complainant said that Bilal was a resident of Kasur and was working as a labourer in a neighbouring factory. He said he desecrated the cross, insulted the church and hurt the religious feelings of the Christian community.
Dr Waqas told the Religion Observer that several locals of the area are trying to convince him to withdraw the case otherwise the local Christian community would suffer. "I did my best to make the situation normal because I do not want an incident like Yuhannabad to happen again," he said. He said the Christian community have a trust in law enforcing agencies of the country and hope they would provide them justice.