Buzdar Sarkaar: All about corruption behind transfer-posting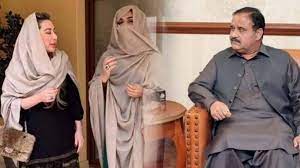 Unprecedented sums of money exchanged hands in transfer and postings of civil and police bureaucrats during the rule of former PTI Punjab chief minister Usman Buzbar.
The transfer postings were being executed through high ups at the Chief Minister's secretariat while among beneficiaries and brokers of these postings were including Farah Khan, Bushra Bibi (aka Pinki Peerni), and Maneka family, Religion Observer has learnt.
Among the staff of the CM secretariat involved in this corruption are including Tahir Khursheed (Ex-Secretary to CM, Secretary C&W), Dr Raheel (Secretary to CM), Shoab (Secretary Coordination to CM), Ahmed Aziz Tarar (DG LDA, Ex-Secretary To CM), Haider (PSO to CM), Sajid Zafar Daal (Ex-Commissioner DG Khan, Ex-Secretary to CM), Ali Ejaz (To CM and DC DG khan and Now DC Okara, Ayesha Hameed(Ex-Secretary to CM). Saliha Saeed (Ex DC Lahore, DG Excise), Some bureaucrats other than the staff of CM Secretariat who served as brokers include Usman Moazam (Ex-DG LDA), and Gulzar Shah (Ex-Commissioner Rawalpindi). They not only enjoyed lucrative posts but also made money by serving brokers of transfer postings. They collected money and forwarded it to Tahir Khursheed and Ali Jan to give it to Farah and Manekas to execute the transfers. National Accountability Bureau had initiated an inquiry against Tahir Khursheed while him being on the seat of Secretary to CM.
Rana Socrat was the frontman of Tahir Khursheed who collected money and paid him Rs 3 crores for his two daughters' marriage.
Asif Bilal Lodhi (Secretary Coordination and later Commissioner Lahore) was surrendered from Punjab on account of corruption along with Farah Khan, Ahsan Gujjar, Dr Shoeb Akbar and earned a huge amount in the ring road project. Rana Muhammad Arshad (Project Director ring Road) paid Rs 3 crores for his posting and earned 12 crores from the slot.
Tariq Bokhari paid Rs 2 crores to Qisarani and Buzdar brother to get the post of DC Sheikhupura and then as DG Kohe Suleman Authority. Syed Mosa Raza become political agent DG Khan by paying Rs 1.5 crores and then paid Rs 2 crores to Tahir Khursheed for Buzdar to become DC Bhakkar and later on DC Muzaffar Garh.
Asghar Joiya paid Rs 3 crores to Farah Khan to become DC Sheikhpura and then DC Sargodha. Rana Shakeel paid Rs 2 crores to Mosa Maneka and Bushra Pinki to become DC Pakpattan and then another 2 crores to Buzdar through Ali Jan for becoming DC Sheikhpura.
Umer Chatha(DC Lahore) was known as Farah and Pinki's man. He got three DC ships as a junior officer.
Commissioner Lahore and DG Khan Zulfiqar Ghuman was the frontman for Ahsan Gujjar and Farah Khan and enjoyed these three years as Secretary of various departments and two commissionerships. He earned around Rs 40 crores. Javed Akhtar Mehmood (Ex-Commissioner Multan) managed the Buzdar family and Tahir Khursheed and paid hefty amounts on monthly basis.
Noor Mental paid 5 crores to Tahir Khursheed and Ali Jan for Buzdar and Farah for becoming Secretary LG and Commissioner Rawalpindi.
Rafaqat Nissowana (Ex-DG Food Authority and now posted as Registrar Cooperatives) initially paid 2 crores to be DG food and then another 2 crores recently to Farah Khan through Raja Basharat (minister Cooperative) and Ali Jan PSCM.
Abdullah Sumbal (Chairman P&D) is famous among the bureaucracy as kickback collector for Imran Khan, Bushra, Buzdar, and Farah Khan. Mudassar Riaz Malik (former Commissioner DG Khan, DC Lahore and now DG Social welfare) paid 4 crores to get these assignments to Tahir Khurshid, Farah khan and Buzdar.
Ahmad Raza Sarwar (Secretary Cooperatives and now Secretary law), in cooperation with Sheryar Sultan and Raja Basharat (minister cooperatives), committed huge irregularities and illegally transferred more than 50 plots under their names.
Naeem Bokhari (Secretary PTA) paid Rs 5 crores to Buzdar and Farah Khan to get this posting and has earned Rs 30 crores in 1 and half years. Manzoor Nasser paid Rs 4 crores at various times to get postings on MD Punjab Textbook, CEO TEVTTA and now as DG Anti-corruption. It is pertinent to mention that former DG anticorruption from police earned over I billion in his tenure of two years before giving the post to Manzoor Nasir.
Babar Bashir paid Rs 5 crores to Buzdar for the post of DC Liyyah and then as DC Sahiwal.
Rana Amir Kareem remained in CM Secretariat and then was posted as DC Multan. He was the main person who switched loyalties from Shehbaz Sharif to Buzdar through Dr Shoaib, Sec to CM Buzdar, by disclosing many inside stories of the Shehbaz era to the PTI government.
All the corrupt practices in the CM office were patronised by Raheel Siddique, Dr Shoeb Akbar, Tahir Khursheed, Ayesha Hameed, Rana Socrat, Haider Ali, Ali Ejaz, Mubashar Mekan, and Buzdar's brothers. Zeeshan Javid Buzdar was first placed as DC Sahiwal and then as DC Sialkot. He is accused of rigging elections last year in favour of the PTI.
Hamid Sh, Iftikhar Sahu, Saqib Zafar, Zafar Iqbal Commissioner Bahawlpur, Javid Bokhari, Dr Farah, Danish Afzal, Babar Tarar, and Ali Murtaza were also part of the chain patronised by Raja Basharat, Asif Naki, Hashim Dogar, and Capt Asad.
Arif Raheem, a PCS officer and close to Shehzad Akbar, managed to save Sajid Zafar Daal and many others from NAB and ACE because he served with Sajid Zafar Daal in Rawalpindi. He came closer to Shehzad Akbar through one Humayon Khan of Attock who is a close friend of Shehzad Akbar.
Arif Raheem collected money from Rawalpindi's Patwaris and was instrumental in all politically motivated cases. He is successful in hiding himself as he didn't come into the limelight but interestingly everyone knows that he managed to get his batch mates posted as Directors of ACE in Punjab.
Zaid bin Maqsood, a PAS officer who was with Azam Khan at PM Secretariat, was coordinating with the Punjab Govt on PM Secretariat's behalf. All major posting/transfers in Punjab were initially approved by the PM office through him. He managed to get postings for his cronies by managing IB reports and giving personal feedbacks to Azam Khan. He had informers amongst PAS officers posted in Punjab like Mujahid Sherdil, Sajid Daal and Danish Afzaal.
He collected money from them especially when he got Danish posted as DC Lahore and DG Food Punjab.
Police Officers
Ashfaq Khan (PSP/DIG) is known as very close to Ahsan Gujjar and collected money in his name. He enjoyed the post of DIG operations Lahore two times, RPO Faisalabad, RPO Sargodha and RPO Rawalpindi. During three years tenure of Buzdar Sarkaar, he never went out of lucrative postings. He collected and paid 10 crores to Buzdar, Tahir Khurshid and 15 crores to Farah Khan. He was given clean chit in Murree killings.
Rana Faisal was posted at the behest of Buzdar brother as RPO DG Khan and Sargodha. Imran Mehmood DIG posted after payment to Ameer Taimoor (Ex Ssp and Uncle of Mr Usman Buzdar). Zaeem Iqbal Sheikh (former DIG) remainder Addl IG special branch for 3 years. His promotion to BS 21 was rejected by the promotion board.
BA Nasir (Add IG) approached Ahsan Gujjar through police officer Azeem Arshad to survive his posting as CCPO Lahore. DIG Azeem Arshad was the man who called DPO Pakpattan Rizwan Gondal to help Khawar Maneka in his scuffle with local police and then managed the job of Mr Gondal.
SSP Atif remained in the CM secretariat and manipulated many postings on police affairs. Mubashar Mekan was the main person who was the eyes and ears of Usman Buzdar and recommended Omer Saeed SSP to his native town as DPO.
Ghulam Muhammad Dogar (former CCPO Lahore) paid a huge amount to CM Buzdar through one Iftikhar Boda to get this post. Mountazir Mehdi paid 4 crores to get the post of CTOs of Pindi and Faisalabad.
Dr Irshad remained posted as Commissioner DG Khan and then he was posted as commissioner Multan. He is considered the main collector of money for Buzdar apart from his cousins and SP Ameer Taimoor. IG Inam Ghani was posted in order to fix the opposition in Punjab. He was involved in an FIA scam. DIG Malik Yousaf was among the blue-eyed boys of Inam Ghani.
SSP Umar Saeed was part of Mubashar Maken group. As a junior police officer, he along with Mubashar Maken were posted as CPOs of Rawalpindi and Faisalabad respectively. Maken being the blue-eyed of Bushra and Farah, is involved in collecting money for them.
Naseem Rashid, brother of DIG Azeem Arshad, was posted in CM Secretariat and was a certified go-between between parties and Buzdar.
SSP Atif Nazeer is accused of collecting money from DSPs and SPs for their postings. Many police officials can testify on this if properly investigated. There are reports that he sent money to the USA to his in-laws through hundi.
DIG Gohar Nafees was considered a pawn of Shehzad Akbar. He worked hard to victimize officers considered loyal to the N League at the behest of Imran Khan and Shehzad Akbar. One PCS officer Arif Raheem was instrumental in coordinating affairs between Shehzad Akbar and Punjab Anti Corruption as well as the Lahore FIA office. DIG Dr Rizwan was an architect of FIA cases against Shehbaz Sharif and Hamza Shehbaz.