Al Qaeda leader Zawahiri killed in US drone strike in Afghanistan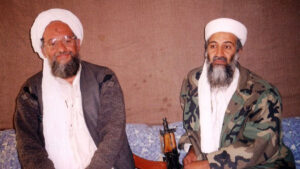 The United States killed al Qaeda leader Ayman al-Zawahiri in a drone strike, President Joe Biden said Monday in a speech from the White House.
Zawahiri, who just turned 71 years old, had remained a visible international symbol of the group, 11 years after the US killed Osama bin Laden. At one point, he acted as bin Laden's personal physician.
Zawahiri was sheltering in downtown Kabul to reunite with his family, Biden said and was killed in what a senior administration official described as "a precise tailored airstrike" using two Hellfire missiles. The drone strike was conducted at 9:48 p.m. ET on Saturday and was authorized by Biden following weeks of meetings with his Cabinet and key advisers, the official said on Monday, adding that no American personnel was on the ground in Kabul at the time of the strike.
In a statement, Taliban spokesman Zabihullah Mujahid confirmed that a strike took place and strongly condemned it, calling it a violation of "international principles."
The senior US official said finding Zawahiri was the result of persistent counterterrorism work. The United States identified this year that Zawahiri's wife, daughter, and children had relocated to a safe house in Kabul, then identified that Zawahiri was there as well, the official said.
"Once Zawahiri arrived at the location, we are not aware of him ever leaving the safe house," the official said. He was identified multiple times on the balcony, where he was ultimately struck. He continued to produce videos from the house and some may be released after his death, the official said.
In the last few weeks, Biden convened officials to scrutinise the intelligence. He was updated throughout May and June and was briefed on July 1 on a proposed operation by intelligence leaders. On July 25, he received an updated report and authorised the strike once an opportunity was available.
A loud explosion echoed through Kabul early Sunday morning.
"A house was hit by a rocket in Sherpoor. There were no casualties as the house was empty," Abdul Nafi Takor, spokesman of the interior ministry, said earlier.
One Taliban source, requesting anonymity, said there had been reports of at least one drone flying over Kabul that morning.
Both bin Laden and Zawahiri eluded capture when US-led forces toppled Afghanistan's Taliban government in late 2001 following the Sept 11 attacks on the United States.