Ahmadi gay MP resigns after conviction for sexual assault of a boy in UK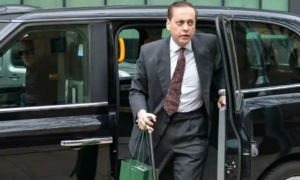 Former MP Imran Ahmad Khan has formally resigned his Wakefield seat following his conviction for sexually assaulting a 15-year-old boy.
He announced his intention to quit on 14 April but did not tender his resignation for a further two weeks. The Treasury confirmed Khan's departure on Tuesday.
He is due to be sentenced on 23 May.
Khan, who has represented the constituency since 2019, had denied groping the boy at a party in January 2008, but was found guilty after a trial.
He has now been appointed Steward and Bailiff of the Three Hundreds of Chiltern by Chancellor Rishi Sunak, one of the formal mechanisms for an MP to quit the Commons.
Khan, who was found guilty of sexual assault at Southwark Crown Court on 11 April, has said he intended to appeal against his conviction.
During his trial, the court heard Khan forced the boy to drink gin at the party in Staffordshire, dragged him upstairs and asked him to watch pornography before assaulting him.
He was elected Conservative MP for Wakefield in 2019 but was expelled by the party "with immediate effect" following his conviction.
The judge, Mr Justice Baker, warned Khan "all sentencing options, including immediate custody, are being considered by the court".
James Vincent, Political Editor of BBC Yorkshire, said normally getting a new job is cause for celebration. But if you're an MP and you get appointed as Steward and Bailiff of the Three Hundreds of Chiltern it actually means you're out of one.
MPs can't resign. If they want to they have to be given a job that disqualifies them from being a Member of Parliament.
As soon as Chancellor Rishi Sunak gave Imran Ahmad Khan that new title he was no longer representing the people of Wakefield in Westminster, James said. He said by the way, being the Steward and Bailiff isn't an actual job, it is a title that pretty much means nothing.
But it means plenty for the people of Wakefield because they will now definitely have a by-election to choose a new MP.
There's no date immediately, because it has to be called by the Conservatives who won there in 2019, but it's likely to be later this summer, he said.
Responding to Khan's resignation, Louise Haigh, Labour Shadow Cabinet member, said he should "never have been in a position to hold public office".
"The Conservatives were warned about serious allegations of child sexual assault before his election and ignored it," she added.
They turned their backs on victims and let Wakefield down."