'Wajiha & Bangash plotted murder of her Ahmadi husband to marry each other'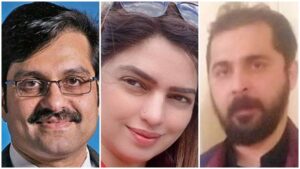 Rizwan Habib Bangash, second husband of Wajiha Sawati, has confessed that he helped her to mastermind the murder of her former husband Dr Mehdi Ali Qamar in 2014 in Rabwa after Jamaat-e-Ahmadiyya had initially informed the police and media that the murder was religiously motivated.
Four months after the death of Dr Mehdi, Bangash and Sawati married each other. Wajiha and Dr Mehdi were settled in America and were parents of three sons.
Bangash, who is already facing charges of killing Wajiha Sawati, has confessed during the interrogation that they hired two hitmen from Hangu area of Khyber Pakhtunkhawa to kill Dr Mehdi in Rabwa, police sources close to the investigation told Religion Observer. According to the sources, one of the hitmen died of natural death however the police are trying to arrest the other.
Initially the murder was declared religiously motivated and thus far no one was interrogated in this regard.
But authorities pieced together what they believed had what happened: Wajiha conspired to murder her husband along with her friend, Rizwan Habib Bangash. The suspected motive? A secret romance and lots of money.
Wajiha who married Bangash less than six months after murder of her former husband, had Dr Mehdi declared killed for religious reasons with the help of Jamaat-e-Ahmadiyya and collected on his life insurance policies. Bangash also promised her huge property and money for marrying him. Bangash also claimed that he and Wajiha conspired together in the murder so that they could be together.
An affair that led to murder eventually itself turned violent, leading to the killing of Wajiha. And her killer is the one who helped her killing her former husband. Bangash convinced her to come to Pakistan from the US to transfer his promised matrimonial property under her name where he killed her and buried her body in the front yard of his house.
Bangash got arrested after many weeks of Wajiha's murder and during interrogation he confessed to her murder as well as the murder of her former husband with her connivance.
Bangash made this confession during his 20-day physical custody of Chenab Nagar police. An eight-member high level police team is investigating into the murder however Bangash is sent to Adiala Jail on judicial remand.
A member of the investigation, on condition of anonymity, said that they are trying again and again to contact the relatives of Dr Mehdi but they are not willing to pursue the case. He said however some notables of the Jamaat-e-Ahmadiyya are cooperating. He said they are trying to glean every possible proof related to the murder to ensure exemplary punishment to the killers.
Dr Mehdi was gunned down on May 26, 2014, and the reason for Dr Mehdi's murder in the FIR was stated as hate motivation because of him being a member of the persecuted Ahmadiyya community.
According to the marriage certificate, a copy of which is available with Religion Observer, Bangash and Wajiha married on November 11, 2014.
Last year, Wajiha tried to get her marriage dissolved. She acquired a Fatwa from Lal Masjid, Islamabad, on February 16, 2021, saying that she was a Sunni Muslim and her husband Rizwan had become an Ahmadi. In this way, she got her marriage declared void by Mufti Habib Salman of Darul Ifta Lal Masjid. However according to the sermon of Ahmadiyya Community head Mirza Masroor Ahmad after the death of Dr Mehdi, Wajiha and Dr Mehdi were Ahmadis.
After acquiring the Fatwa, Wajiha filed a suit for the dissolution or end of her marriage in an Abbottabad family court on March 6, 2021, but she did not attach a copy of the Fatwa with the suit application. However, by June 21, Wajiha took back the case saying she had entered into a compromise with her husband Bangash.