Very Few Religious Americans Favor A Total Abortion Ban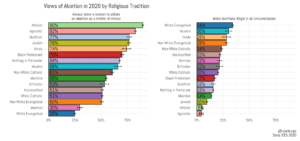 While abortion has always been a simmering issue in the American political discourse for the last 50 years, it has reached a boiling point in just the last few months.
The heat began in earnest in May, when Texas Gov. Greg Abbott signed into law a bill that would ban all abortions in the state after a fetal heartbeat was detected, which typically occurs at 5-6 weeks of gestation. In practice, the Texas Heartbeat Act would outlaw nearly all abortions in the state of Texas. When that law was challenged, the Supreme Court of the United States refused to block the bill from going into effect.
On Dec. 1, the Supreme Court heard a challenge to a bill passed in the state of Mississippi that would ban abortions at 15 weeks of gestation. The aim of that bill was to overturn the viability standard of 24 weeks, which was established in the landmark decision Roe v. Wade in 1973.
While the high court won't issue an official ruling for months, many observers note that the justices seem to be inclined to allow the Mississippi court's ruling to stand and believe that this opens the door for a complete ban on abortion in many states across the country.
What is astonishing is the sharp contrast between the direction that many state legislatures and the Supreme Court are taking on abortion and the general sentiment from the American public. Even a cursory look at the data concludes that majorities of Americans want abortion to be available as a choice, and the share who would support a total ban on the practice is incredibly small.
Looking at data from 2014 through 2020 on abortion, several conclusions come into focus. The first is that a majority of Americans support abortion as a choice. According to the Cooperative Election Study, 56% of respondents agreed with the statement, "Always allow a woman to obtain an abortion as a matter of choice."
At the same time, agreement with the statement, "Make abortions illegal in all circumstances" has the support of about one in five Americans. What's also worth pointing out is that neither number has changed significantly between 2014 and 2020. Abortion opinion is not that malleable among the voting public.
When religion is injected into the analysis, the picture comes into sharper focus. In 2020, 9 in 10 atheists supported a woman's right to choose an abortion. Agnostics were not far behind, at 82%. But there are other religious groups who support choice as well. Three quarters of Jews are in favor, as are two-thirds of Muslims and a slim majority (55%) of mainline Protestants. The only groups where support is clearly below the majority are Latter-day Saints (30%) and White evangelicals (25%).
However, when it comes to a total ban, the percentages are much lower. The religious group that is the most supportive of a total ban on abortion is White evangelicals, but even in that case, the share who support an abolition on abortion are outnumbered 2-to-1.
In fact, there are many groups in which support for a total ban is 20% or below. Just 1 in 5 Roman Catholics would support such a policy, along with 15% of mainline Protestants. There's just not much appetite among any religious group to make abortion entirely illegal in the United States.
That's even more apparent when breaking the sample down based on church attendance. For instance, just 41% of White evangelicals who attend church once per week say that abortion should be made completely illegal. Barely a third of White Catholics who go to Mass each week would support such a ban. Among mainline Protestants, Latter-day Saints and non-White Catholics and evangelicals, support never gets to 50% at any attendance level.
There are only two groups that exist in the data in which a clear majority support a total ban: White evangelicals who attend church more than once per week (56% in favor) and White Catholics who attend Mass several times a week (57% in favor). However, those subgroups combined only represents about 3% of all American adults.
According to data from Gallup, the share of Americans who disapprove of the job of the Supreme Court was at 53%, while approval dropped to just 40% in 2021 — the lowest number recorded since Gallup began asking the question in 2001. During oral arguments in the Mississippi abortion case, Justice Sonia Sotomayor referenced the perception that the court was being seen as less legitimate every year. She asked from the bench, "Will this institution survive the stench that this creates in the public perception that the Constitution and its reading are just political acts? I don't see how it is possible."
It's folly for any American to say that the Supreme Court exists in a non-partisan space. The court historically has responded to public opinion in making its ruling in cases like Brown v. Board, which desegregated public schools, and Obergefell v. Hodges, which made same-sex marriage the law of the land.
In both cases, the public slowly began to agree to the views that the court was taking. However, when it comes to abortion, the public shows strong opposition to a total ban. Yet, the court continues to creep in that direction. Viewing governmental institutions as legitimate is a bedrock principle of any democracy. The Supreme Court is at a critical crossroads in its history, and that could shape how American democracy fares in the 21st century.
Religion Observer believes in a diversity of opinions. This piece reflects the views of the author and does not necessarily represent those of the OR.
Courtesy: Religion Unplugged