Vatican honors Pakistan's first 'Servant of God' for stopping church bombing
| Web Desk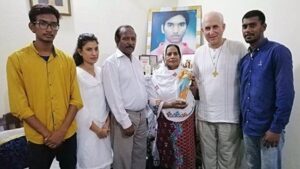 The Vatican has honored Pakistani Catholic Akash Bashir with the title of "Servant of God" after he laid his life stopping a suicide bomber from entering a packed church in Lahore in 2015. The title is given to a candidate at the beginning of the sainthood process at the diocesan level.
Akash is the first candidate to "sainthood and martyrdom" among the Pakistani Catholics, the Vatican News reported Thursday. Special prayers have begun across the Catholic Churches for the intercession by the 20-year-old victim.
Talking to BBC Urdu, Akash's father, Bashir Emanuel, said that his son was a servant of God in the world and even after his death. "I am proud of my son," he said. Vicar General of the archdiocese, Father Francis Gulzar described the move as "a great day for the Catholic Church in Pakistan".
According to the statement, Akash offered his life as a sacrifice to save the lives of the Christian community at St. John's Catholic Church, Youhanabad, Lahore. He is the first Pakistani Christian who has been raised to the rank of the Holy People of God.
The attack
Akash was born in Khyber Pakhtunkhwa's Nowshera and was a student of Don Bosco Technical Institute of Lahore. He often served as a volunteer security guard at the church. On March 15, 2015, two bombers detonated explosives near the gates of St John's Catholic Church and Christ Church in Lahore. As many as 17 people were killed while 70 others suffered injuries in the two attacks.
Akash was searching people at the entrance of St. John's Catholic Church in Youhanabad, when he encountered a suicide bomber. The bomber wanted to force his way into the church and warned Akash that he was wearing a suicide vest but Akash persisted and the bomber blew himself up, according to Bashir Emanuel. The attacks were later claimed by the terrorist group called Tehreek-e-Taliban Pakistan Jamaatul Ahrar (TTP-JA).
The lynching
Following the bomb blast, a scuffle had broken outside the churches and a charged mob lynched two Muslims suspected to be involved in the attacks. Anti-Terrorism Court Lahore, however, acquitted 42 Christian men who were indicted for the lynching in 2016. The verdict revealed that both sides have reached an agreement and have no objection over their acquittal. Two of the suspects died in jail, reportedly due to a lack of medical facilities.