US body joins voices for reformation within Jamaat-e-Ahmadiyya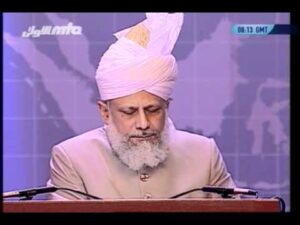 Giving strength to the voices against sexual abuse incidents within the Jamaat-e-Ahmadiyya, an international body has demanded the states having Ahmadi citizens review and address current forms of violence and discrimination against women and children within the Ahmadiyya community.
With various incidents of sexual abuse in recent weeks within the Jamaat-e-Ahmadiyya in the UK, the US, Canada, and Pakistan that made headlines, different voices within the Jamaat have been demanding their leadership to come up with elaborate measures to address these problems.
Related stories:
Listening and acknowledging to the voices of the victims of this double persecution, the International Religious Freedom or Belief Alliance (IRFBA), an alliance of 35 countries based in the US state department, have categorically called upon the countries with Ahmadi citizens to "review and address current intersecting forms of violence and discrimination against women and children within the Ahmadiyya Community". Out of 35 total member states of the IRFBA, 13 states have signed this statement on March 01, which is observed as Zero Discrimination Day every year. The co-signatories of this statement are included the US, the UK, Australia, Israel, Denmark, Sweden, Brazil, Czech Republic, Netherlands, Norway, Poland, Slovak Republic, and Sovereign Order of Malta.
The Jamaat orthodoxifying forces and their supporters have been resisting any calls for reformation within the Jamaat and term them enemies of the Jamaat. Let us see if they term IRFBA as its friend or enemy after this statement, said a US-based Ahmadi in favour of the reformation. He requested not to be named fearing detrimental consequences.
The IRFBA in its statement also demanded equal rights for Ahmadis and the end of discrimination against them. It said, "Some state authorities prevent Ahmadis from self-identifying as they so choose, restricting their ability to worship, prosecuting them for practising their faith and tolerating attacks against them by non-state actors. Authorities frequently use laws on offences relating to religion (blasphemy laws) to target these individuals, preventing them from exercising their rights to freedom of religion or belief to freedom of expression, and other human rights." In addition, some state authorities have threatened to charge Ahmadis with blasphemy for posting Ahmadi web content and threaten organizations who host it with legal action", the statement added.
The IRFBA said that the states should not discriminate against and tolerate violence toward Ahmadi or anyone based on their interpretation of the Islamic faith.
It called upon the states to immediately release all Ahmadis imprisoned for exercising their religious beliefs, including on charges on the grounds of their religious expression (for example, blasphemy), activities, and self-identification as Muslims. Ahmadis should immediately be given the right to vote. Police raids on their homes and their places of worship should be ended with the elimination of any discrimination against them. They should be given full access to justice with equal opportunities of employment and education. Targeting of Ahmadis should be eliminated in third countries under laws that curb free expression, including religious expression, and bans on their religious texts, online and offline. Individuals and groups who use violence or intimidation against Ahmadis should be held accountable, the statement concludes.
Some of the rights activists have expressed their concerns over IRFBA demands to the states asking them to "review and address current intersecting forms of violence and discrimination against women and children within the Ahmadiyya Muslim Community". They said there are apprehensions that countries like Pakistan, Bangladesh, Indonesia, and Malaysia would find this new justification to spearhead their discrimination against Ahmadis.