Samsung latest to face 'blasphemy' wrath in Pakistan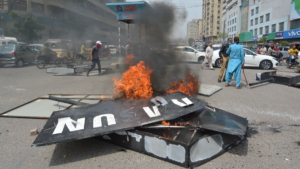 Violence in the name of the Prophet and alleged blasphemy—Pakistan saw it again on Friday. Except this time, it wasn't an individual but a simple QR code and a wifi device that flared tempers. At the receiving end was Samsung. The streets of Karachi witnessed angry mobs of men burning down billboards of the South Korean multinational. According to a report by local news agency The Namal, the protest was allegedly led by Pakistan's Right-wing religious party Tehreek-e-Labbaik Pakistan. The TLP has, however, denied any involvement in the vandalism and protest, according to Pakistani journalist Waqar Gillani.
Pakistani journalist Naila Inayat wrote in a Twitter post that a wifi device had allegedly aired blasphemous content. Pictures posted by The Express Tribune showed the mob burnt down posters of Samsung in Karachi's streets.
So far, the police have made 27 arrests in the blasphemy protests. However, all arrested are employees of Samsung, according to a Dawn report.
Samsung, which has nearly 23 per cent market share in Pakistan's handset market, was quick to issue an apology and order an internal investigation.
"Samsung Pakistan reiterates its objectivity on all matters of religious significance and aims to ensure that the company's vision and operations are known to be unbiased and respectful towards religion", read the company's press release shared on Twitter by its Pakistani handle.
The release also added that the company has utmost respect for Islam and that it has "started internal investigations into the matter".
"With reference to the recent developments in Karachi, Samsung Electronics stands firm on its stance that the company has utmost respect for all religious sentiments and beliefs and holds the religion of Islam in utmost respect", it said.
This is not the first time that a multinational company had to face the wrath of a group of angry Pakistanis over a computer generated code. In December last year, a QR code imprinted on a cold drink bottle had generated headlines when a man alleged that the code inscribed the Prophet's name and threatened to burn down an entire truck full of soft drink if the company did not remove the code.
Though it is not confirmed what exactly was the objectionable content on the Samsung's device/QR code, however, according to local journalist Waqqar Gillani – the TLP has actually denied its role.
Courtesy: ThePrint.in