Pakistan: Christian families run for life after blasphemy accusation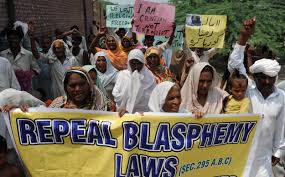 Women and children of as many as 60 Christian families are on the run fearing attack by Muslims mobilized by Tehrik-e-Labbaik clerics following allegations of insulting Holy Quran in a locality of Lahore.
The case occurred in the village of Brehman Abad area or Burki police area, the eastern part of the city of Lahore, on Saturday last but the tension mounted Sunday when many hundreds of Muslims of the adjoining villages reached there following announcements in the area mosques to 'defend Islam.'
We had no clue of the incident until hundreds of charged Muslims arrived in the area followed by heavy contingents of Police, Arshad Masih, a resident of the village, told Religion Observer. He said the police asked them to avoid any mishap Christians should move to some safe spots for time being. It has been three days since all Christian women and children have left their houses for sake of life.
Arshad said Muslims of their village are aligning with Christians but Tehrik-e-Labbaik clerics are instigating their followers from neighboring villages against Christians. They lodged a protest last night and kept the road near Burki Police Station blocked for several hours.
According to details, a scavenger found some damaged pages of the Holy Quran on Saturday and in consultation with some Muslim boys in the area accused Christians, without even naming someone, of insulting Quran. Police have not registered any FIR so far however clerics are putting pressure on the registration of the FIR. The police have arranged a meeting with Christian and Muslim notables this afternoon to find some amicable solution.
Arshad Masih said the Christians are ready to give any kind of undertaking for the satisfaction of Muslims. He said most Christians are labourers and cannot face Muslims. He said they are living under constant fear of attack on their church or houses. He appealed to the authorities to take action to ensure the safety of the Christian families.