Pakistan: Two Sikh shopkeepers shot dead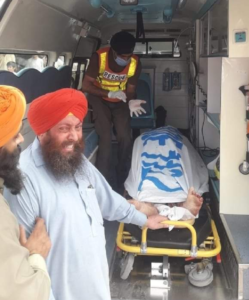 Unidentified assailants gunned down two Sikh shopkeepers in Bata Tal bazaar of Peshawar's Sarband area on Sunday morning.
The two assailants were riding a motorcycle when they opened fire on the victims, who were selling spices in the bazaar. The victims died on the spot.
The deceased were identified as Saljeet Singh, 42, and Ranjeet Singh, 38.
CCPO Peshawar Ijaz Khan said the incident is the result of targeted killing and the anti-state elements wanted to spread fear among the minority community.
The two shopkeepers were the resident of Mohalla Jogan Shah area in the provincial capital. The families of the victims had moved to Peshawar in 2009 after the law and order situation in the Tirah Valley deteriorated and started a business.
After the incident, the Sikh community in Peshawar staged a protest rally from Dabgri Gurdwara. They demanded of the authorities to punish the culprits as per the law and take steps to prevent incidents of targeted killings.
Sikh community leader Dr Sahib Singh termed the unfortunate incident "very shocking".
Both were from poor families, the minority community leader said, adding that a few months ago gold medalist Hakeem Dr Satnam Singh was also targeted and his family has not yet received compensation amount announced by the government.
Earlier in the year 2018, a similar incident was reported near Scheme Chowk within the limits of Badhaber police station where a Sikh social leader and religious scholar Sardar Charanjit Singh was killed by unidentified assailants inside his clinic. The three accused were arrested. Charanjit Singh's family later moved to Punjab due to law and order situation.
Garman Singh, son of Charanjit Singh said that after his father's death his family moved to Punjab from Peshawar. He said they had been facing financial problems and demanded the authorities concerned to provide them with government job.
The widow of a prominent Sikh social worker who was shot dead by target killers in Badaber, Peshawar on May 29, 2018, reported saying: "We do not know who was arrested by the police. Why were the accused released so quickly in the case?."
According to the K-P police sources, the Sikh community was issued a threat alert in Peshawar, Swabi, Buner and Malakand.
According to an Annual Security Assessment Report conducted by the Pakistan Institute for Conflict, extremism in Pakistan increased last year. The report found that there were 57 per cent more militant attacks in 2021 compared to 2020.
As a result of these attacks, 395 people were killed and 629 were injured, a 48 per cent and six per cent increase in these respective numbers from last year.