Man arrested for 'possible hate-motivated' attack at Canadian mosque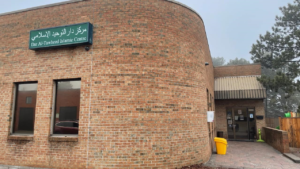 A man is facing several charges after police say worshippers at a mosque in Mississauga, Ontario, were attacked with bear spray in what authorities believe was a "hate-motivated incident."
Someone walked into the Dar Al-Tawheed Islamic Centre, near McAdam Road and Matheson Boulevard East, early Saturday and discharged bear spray toward people while brandishing a hatchet, according to Peel Regional Police. Some members of the mosque tackled and subdued a suspect.
Mohammad Moiz Omar, 24, was charged with assault with a weapon, administering a noxious substance with intent to endanger life or cause bodily harm, possession of a weapon for a dangerous purpose, uttering a threat to cause death or bodily harm, carrying a concealed weapon and mischief to religious property.
Some people suffered "minor injuries" from the bear spray, police said.
In a news release issued late Tuesday, police said it is "believed to be a hate-motivated incident." They said the accused was held for a bail hearing and appeared in court in Brampton.
At about 11 a.m. ET, the mosque's imam, Ibrahim Hindy, posted on Twitter about the attack.
A man came in carrying an axe, pepper spray and other "sharp edged weapons" as people were gathered for Fajr prayer, Hindy said.
"Several congregants bravely were able to stop him in his tracks," he said. "Our community will never be broken and we refuse to be intimidated."
'People are obviously quite shaken up'
Nadia Hasan, chief operating officer of the National Council of Canadian Muslims, said about 20 people were in the mosque at the time.
"A number of men who were there for prayer tackled [the armed man] and they apprehended him until the police came," she said.
Hasan said there were remnants of the bear spray in the building, still causing people to cough by Saturday afternoon.
"People are obviously quite shaken up and are recovering," she said.
"But I think for the most part, folks are still processing what's happened and are trying to kind of see how they can ensure that their communities remain secure."
Hasan said the Dar Al-Tawheed Islamic Centre remained open on Saturday and police would be there for the "next little while" to ensure that other prayer times could go ahead safely.
Speaking to reporters before the charges were announced, she said the mosque was looking into offering grief counselling and other mental health supports to help those who were affected and heal from what happened, while police continue their investigation.
"They don't know what motivated this person to do what he did, but they obviously have a lot of questions about, you know, why did this happen, why this happened to them, why this community in particular?" Hasan said.
Related:
The imam said the centre would provide further comment when more information is available about the attack. He urged Peel police "to continue to investigate all angles."
PM calls incident 'incredibly disturbing'
Premier Doug Ford said on Twitter that there is no place in Ontario for "such evil and hateful acts."
Prime Minister Justin Trudeau also tweeted Saturday afternoon, describing the attack as "incredibly disturbing."
Anyone with information about the attack is asked to contact investigators.