A US court issues arrest warrant for an Ahmadi leader for not appearing in his sexual assault trial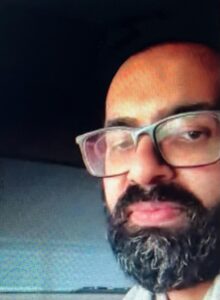 A district court of Texas State of the US has issued an arrest warrant for Muneeb-Ur-Rehman, a former leader of the Jamaat-e-Ahmadiyya, for not appearing in the court in connection with his trial on charges of sexual assault of a minor boy.
The court also forfeited his bail bond worth $100,000 for violating the bail conditions.
Judicial Officer Sherry Shipman had fixed May 25 for a hearing when the accused was expected to plead guilty but he did not turn up. Over Muneeb's conduct, his lead counsel Amy Brown withdrew her power of attorney and would no more represent him in the court. The victim boy is moved to a safe place to avoid any act of retribution at the hands of the fugitive.
Muneeb is facing 6 charges including sexual assault of the minor before the court. The crimes took place between March 2018 and March 2020 when the accused was working on an assignment from Jamaat-e-Ahmadiyya to oversee boys between seven to 15 years of age at Ahmadi Bait-ul-Ikram Mosque, Dallas city, according to a report compiled by Facing Abuse in Community Environments (FACE), a US-based non-profit organization.
Muneeb was arrested on March 11, 2020, and was later released on bail after furnishing a $100,000 surety bond. The sic charges include three charges of sexual assault of a child and three charges of indecency with a child by sexual contact. These charges are in two different counties – Denton and Collin. There are two other allegations of the same nature against Muneeb in Harris County. His trial has yet to take place in Collin and Harris counties. He is from Canada and his passport is in police custody.
According to the FACE report, the accused groomed the 14-year-old boy under his care. Over the course of at least 11 documented encounters, the accused was reported to have sexually abused the boy at his apartment, in his car, and during community events and on youth group trips, they both attended. During the sex abuse interaction, the victim was appointed as Nazim Atfal (head of boys aged seven to 15) on July 21, 2019.
Learning about the grooming and sexual assault, the victim's family went to the police and Muneeb was arrested on May 11, 2020. He was subsequently removed from the post of Motamid Khuddam.
Related
Muneeb's case came to light after revelations of three other Ahmadis, including Dr Muhammad Afzal Upal, Akash Ashar, and Nida Ul Nasser, 36, who has alleged being sexually molested from early childhood to the age of 25 by her father and three other close relatives of the head of the Jamaat-e-Ahmadiyya.
FACE executive director Alia Salem in a statement on Friday criticized the US judicial system and said, "Today's experience for the victim is a prime example of why our criminal legal system is in desperate need of an overhaul and why so many victims choose not to come forward. Not only is the process lengthy and cumbersome for all parties where true restoration and meaningful justice are rare and often incomplete, but the gaps in the process also fail to provide actual accountability and, more often than not, centre the needs of the court above the needs of victims, the community-at-large, or even the perpetrators.