'You know God the Father, but God is your Mother too'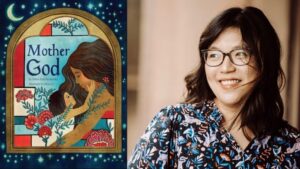 "You know God the Father, but God is your Mother too."
That's how Teresa Kim Pecinovsky's children's book "Mother God" begins. The picture book, with beautiful, vibrant illustrations by artist Khoa Le, was published in March by Beaming Books.
Feminine and maternal imagery for God in the Bible is something Pecinovsky says she — like many — did not encounter until she was an adult, working toward her Master of Divinity degree from Vanderbilt Divinity School.
The idea came to Pecinovsky, a hospice chaplain and former elementary school teacher, during lockdowns early in the COVID-19 pandemic. Unable to see many of her patients, she said, she started writing letters and cards and dabbling in different kinds of art, including watercolors and papercuts.
When two of her images of female biblical figures — of midwives Shiphrah and Puah and of the daughters of Zelophehad, who successfully argued for the right to inherit land — received praise on social media, she first thought of writing a children's book about lesser-known women in the Bible. When her editor steered her toward writing about feminine imagery for God, she was so excited — "I don't like to use the phrase inspired," she said — she had a draft completed within days.
The book not only includes images drawn from Scripture of God as a protective mother hen and a fierce mama bear, but also includes illustrations of people of all ethnicities, ages and abilities, including a nursing mother alongside a book about postpartum depression that reminds Pecinovsky of her first Mothers' Day as a mother.
The way the church she attended described motherhood as "all flowers and rainbows" was far from her experience, she said. It certainly didn't reflect her relationship with her first mother as an international adoptee.
"I think if we can see God represented in the most weak and vulnerable mothers of society, it really enriches our spiritual lives," Pecinovsky said.
The author, who is ordained in the Christian Church (Disciples of Christ), spoke to Religion News Service about why it's important for people of all ages to see God as a mother, too, and how the story of Hagar and Ishmael, the servant and firstborn son of biblical patriarch Abraham, resonates with her.
This interview has been edited for length and clarity.
Is it surprising to people to realize how many feminine images there are of God in the Bible?
Honestly, the majority of people I hear from — men and women and nonbinary folks — tell me, first of all, that they cried when they read the book because they've never seen that kind of depiction of God, especially in a children's book. Parents who are reading it to their children — and I've heard this over and over again — get choked up reading it to their kids.
It's sad to me because it shouldn't take a lifetime of non-exposure before you see it in a children's book to realize how much you were missing. And I'm really, really delighted to think about the children who read this book and grow up seeing God in feminine imagery just as a natural part of their spiritual development, instead of having to wait until they're in adulthood and having to deconstruct and reconstruct.
Is that a controversial idea for some?
Most people just see the cover and make very emotional expressions based on that — lots of, "God is father," "Jesus never calls God 'mother,'" "God chooses to call himself 'he.' How dare you depict God as a woman?" and several more sincere questions about, "Are you saying that God is a woman?"
My answer is always no. I believe God is beyond gender. But because Scripture includes so many different images of God, we need to be able to see them all in masculine, feminine and nonbinary terms to be able to appreciate the way that we are created in imago dei.
Why is it important for children — and people of all ages — to see God as a mother?
For me, so much of my theology about humanity is that we are made in imago dei — in the image of God — and so if we are only taught images about shepherds or kings or fathers, then there's a whole smattering of the population that can only see part of themselves represented within divinity.
I have been really amazed at some of the reactions from children. That tells me how deeply embedded paternal images of God are within society. For example, one of my friends is a very progressive (United Church of Christ) minister … and I know she has raised her children with very progressive views on theology. I was amazed when she told me she read the book to her daughters, and her 4-year-old daughter turned to her and said, "So God isn't a boy, and girls can be just as strong?" You think about the implications of the inverse of that: If God is a boy, then girls aren't as strong and girls are weak. Somewhere along the way, her 4-year-old had already internalized that.
It's going to take more than just one children's picture book to shift that change. It's even (going to take) more than really dedicated parents who are committed to showing their children expansive views of God. This is something that the kid lit and education world has known for decades now: Representation is still important, not because we're trying to be politically correct, but because of the meaning it holds for children to see themselves represented.
Do you have a favorite feminine image of God in the book?
One of my favorite spreads is the one of "she is the God who sees you" based on Hagar and Ishmael. I didn't want it to be a literal depiction of Hagar and Ishmael. I wanted it to be relevant to modern readers. Initially, it was a white mother (crying on the couch with her son), and I said, "No, this has to be a Black mother and son," not only because it's Hagar and Ishmael and they were Egyptian, but also because, to me, it very much represents the Black and brown women who grieve for their sons who are unjustly targeted for violence in our country.
I've had several reactions from people who really strongly resonate with that, not only because it's so beautifully illustrated and so emotive, but if you think about back in 2020 and 2021, how many of us were lying on couches, crying, because we're so anxious and unsure about what was happening in our world?
I see this in my job, too, as a hospice chaplain. So many of my patients and family members and colleagues just want to be seen. To be seen and to be validated is such a strong human desire and need, and so to imagine a God who sees you and fully knows you is, I think, very, very powerful. I've had people from non-Christian and nonreligious backgrounds who were especially drawn in to that spread, as well, because I think it's such a universal theme.
Courtesy: RNS