Social Media Helps Ahmadiyya LGBTQ+ Discover Where They Belong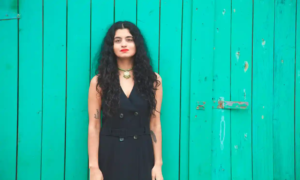 In June 2005, Ahmadiyya leadership was expressing its concerns to Canadian Prime Minister Paul Martin in a number of meetings against his government's move to legalize same sex marriage, to which Ahmadis were terming sin. It is unclear to say if the leadership was doing it to fulfil its 'preaching obligation' or was it a tactic to have a chilling effect on coming out aspirations of LGBTQ members of its closely knit and controlled community.
Last year, some Jamaat-e-Ahmadiyya women whistleblowers received severe criticism for speaking of incidents of same sex relationship between girls at Rabwa, the spiritual headquarter of the Jamaat. A few years ago, a number of Ahmadis were rejoicing and sharing video clips of dancing queer grand son and namesake of Zulfiqar Ali Bhutto, former Prime Minister of Pakistan. They termed it divine punishment for Bhutto family for declaring Ahmadis as non-Muslims in Pakistan in 1974, sideswiping the fact that Ahmadiyya community have members with nonbinary sexual identity and there is no need to feel ashamed of it.
Though Samra Habib, an Ahmadi queer based in Toronto and hailing from Lahore, had made her queer identity public in 2013 by writing a news article in Guardian but a majority of the Jamaat members seem in a position of denial of the existence of LGBTQ individuals within the Jamaat. Samra had explained that being part of her community, she had no right to call herself Muslim because she was queer and didn't wear the hijab. "There was no denying that the sense of shame I carried deeply impacted my relationship with my faith", she said.
Thanks to the development of social media for providing space for more Ahmadi LGBTQ individuals to disclose their nonbinary identity. In some cases of Ahmadiyya LGBTQs living out of Pakistan, social media is helping them come out, sharing their plight and providing useful pieces of advice to each other on how to deal with the hardships they face for being gay/lesbian and part of Ahmadiyya community. 'Questioning Islam Ahmadiyya' is an articulate group set up on Reddit by some Ahmadis/Ex-Ahmadis to initiate constructive critique, religiosity, agency, and social issues within Ahmadiyya community. Respectful and polite dialogue is in the core of the objectives of the group that was set up in 2018 and has around 2000 members. No one is allowed to use derogatory terms like 'Qadiani'. Clickbait and tabloid-like postings on Ahmadiyya are removed at the earliest.
A post on this Subreddit was created three weeks ago by an Ahmadi gay with the headline: "Ahmadi gay wants to leave home, family threatens to kill me and themselves". Encouraged by this post, some more Ahmadi queers shared their ordeal. The post and the comments on it gave an alarming picture of the treatment the LGBTQ individuals within the Jamaat-e-Ahmadiyya are facing.
The post said, "I am an Ahmadi gay woman and I am young. I would not go too much into details for the sake of own safety." I have a girl friend, I never thought about coming out because I was too afraid of my parents and also because my family is religious. Some of my family members including my father hold very prestigious positions in Jamaat, she said, adding that I had no problem with my father having Jamaat office until I was outed to family and they wanted me to marry some Ahmadi dude. They threatened to send me back to Pakistan and "tried to pray the gay away". The writer said, she moved out of the house but went back when her family promised not to marry her off to a boy. She said Jamaat has suspicions about her being gay. But, she said, everything was going well until the topic of her working somewhere came up and her father told her that she was not allowed to work because Jamaat doesn't allow people to work where alcohol is served. She said, "How they can impose Jamaat teachings upon me when I do not consider myself an Ahmadi." She said my parents have time and again told me that if u are not marrying an Ahmadi boy the Jamaat would excommunicate the whole family. She quoted her father as saying that if I ever married to a non Ahmadi he is gonna kill me and himself. "I am feeling under pressure, I don't know what to do, I don't want my dad to kill me. I want to move out and wanna leave jamaat, please advise me how to proceed, she asked the group members. When asked about her country of residence, she did not respond.
A member of the group commenting on the post expressed their experience as a bisexual Ahmadi. They said: "I am also an ex-Ahmadi bisexual, and my parents would never accept either so I moved far away and although it's painful, it's the best thing I could have done for myself." Parents use a lot of threats like they're going to kill themselves or pack up and move to Pakistan, but in most cases, those are just threats and a way to manipulate you to do what they want. It's exactly what the Jamaat does as well, they said and added it hurts to hear how much of us are just surviving on a day to day basis dealing with this. They advised the writer of the Reddit post to leave the house of her parents with her girl friend but don't leave Jamaat for time being as it won't be easier to fight all of the battles at once. Please move out. I regret how unsafe and how much suffering I let myself go through by being afraid when all of my friends kept telling me to do so, they said.
Another comment posted by a fictitious name, Soggy_Sando, said this is so hard. "I left home when I was younger too and it was a very precarious time for me as well (still is but in different ways)", the comment said.
Altruistic_Ice2571, the fictitious name of another member of the group, suggested her to write a letter to the global head of the Ahmadiyya community about everything that you are going through. He is not a man that is going to judge, he wants well for humanity, not just one sect.
Odd-Conference8725, the writer of the post, replied that the community head is not going to side with me for being gay. When gay or LGBTQ people went to get help it didn't end well, she said.
Another Ahmadi member of the LGBTQ community (Signal_Hold630), commented, "I'm also not straight, my family knows and my parents have met my previous girl friends and loved them knowing how much they loved me. I'm very grateful that my family has been supportive in this sense". Moving out, working and living your truth is the only way it will get better. I know of many queer couples who have had to move to other countries and even couples who have children now and their families still don't know. They're happy being themselves in their own worlds, the comment added. Talking to this reporter, they said, "I live in a Middle Eastern country where I get on with my life and don't have religious interference. I'm free to practice my faith as I like."
Another member of the group asked about resigning from the membership of the Jamaat. She said she want to quit the Jamaat and the reason why I haven't left yet is because I'm afraid of my parents being publicly named and shamed for me leaving Jamaat. The organizer of the group replied, they are clever and realize that letting people resign quietly is now very tempting for many, so some it seems, will use the only real tool they have: fostering an environment when the people we loved will be shamed by their peers, in order to control what we do.
The organizer advised the author of the post that if she is in North America, there are ex-Muslim meetup (social, support) groups in most major cities, including Toronto, Chicago, DC, Houston, and so on. I'm currently on the leadership team for the Toronto group and I direct you to a chapter if you want to contact me for more details, the organizer said.
Ahmadiyya has emerged as a cross culture religious community with its members in more than 200 countries. It is juggling between two sides of this cross culture understanding its traditional, social and religious norms. Western values of religious freedom and better economic opportunities are very dear to them but at the same time, they do not want to fully assimilate into the Western culture at the cost of their social and religious values.
Homosexuality is not primarily a western phenomenon. The West only provides protection to the LGBTQ to come out with guaranteed protection. But for the members of emigrating conservative communities who identify as gay, lesbian or transgender the attitudes of family and their religious community are a much bigger problem. This problem goes to its peak especially for Ahmadi LGBTQ people when they come out. For them, this can be an especially difficult decision, a member of the Ahmadiyya community based in Toronto told Religion Observer on condition not to be named. Fearing this situation, a few of the more Ahmadiyya LGBTQ fortunate ones find a gay or lesbian partner of the opposite sex and enter a pretend marriage while some bite the bullet and decide to come out come what may, he said.
Speaking about those LGBTQ individuals coming out, he said their families respond differently depending on several factors. In most cases, coming out results in the person being ostracized by their family and the whole community. A less harsh reaction is to seek a "cure" – either through religion or, in better-off families – through expensive but futile psychiatric treatment, he said. To have an official version of the Jamaat administration on the issue, the RN wrote an email to its media office based in the UK but did not receive any response till the filing of this story.
Some Ahmadi/Ex-Ahmadi activists are working in different western countries to address homophobia and transphobia within the Jamaat and empower the youth to defy mainstream gender binaries in their cross borders community. Few individual Ahmadiyya LGBTQ's coming out are small developments, but a few years ago none of them was happening.
One thing these brave individuals have done is make it difficult to claim that LGBT Ahmadis don't exist. They have established a degree of visibility which, though still limited, is important because visibility is the first step towards achieving rights and without it there is no hope of doing so.