LUMS abruptly drops invited Ahmadi speaker to talk on minorities, provokes ire online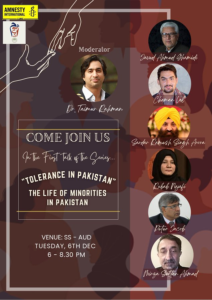 Lahore University of Management Sciences (LUMS) is facing severe criticism online after abruptly dropping an invited Ahmadi speaker among others to talk on "Tolerance in Pakistan" with a focus on the vulnerable situation of religious minorities.
Other religious minorities in general and Ahmadis in particular face discrimination for their religious beliefs. It is said that the Ahmadi speaker is also dropped because of religious differences.
The event was planned by Amnesty International (LUMS chapter) for December 16 with Javaid Ahmad Ghamidi, Chaman Laal, Rubab Najafi, Sardar Ramesh Singh Arora, Peter Jacob, and Mirza Sultan Ahmad as panelists. In this regard, posters were designed and widely circulated on the social media accounts of the AI.
A day before the event, the AI said on its Twitter handle that "unfortunately, we are abruptly told to drop the Ahmadi representative we had called to speak". Without naming any person, it said they were told that the Office of Students Affairs made this decision while making a random check of the guests' profiles. The IA went on to say that they do not want to criticize the LUMS but to make our dissatisfaction unknown, we will leave an empty seat representing the dropped Ahmadi speaker – Dr Mirza Sultan Ahmad.
On Twitter, there was huge criticism the LUMS and Amnesty's LUMS chapter were facing. Some were accusing the LUMS of trying to stifle freedom of expression while others were criticizing Amnesty as saying it was cowardly. They said it should have canceled the event instead of going ahead with the empty chair representing the Ahmadi speaker.
For several years, it has been a routine for the LUMS to provide space to some Ahmadi speakers among others on sensitive topics that cannot be discussed on public forums. However such events were kept out of the media coverage.