In India A New Pattern Emerges: Bulldozing Muslim Properties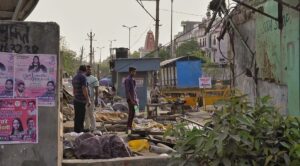 Haneefa, 38, was going about her daily routine in her small barbecue shop in New Delhi's Jehangirpuri suburb when the bulldozers arrived.
For the next few hours, it was a frenzy.
Amid cries and wails of residents, the authorities backed by the ruling Hindu nationalist Bharatiya Janata Party demolished several shops, kiosks and a mosque front. Haneefa's shop was razed to the ground too. India's national media live broadcast the demolition drive, which according to the government was aimed at removing "illegal encroachments" in the national capital. But for residents, it was another in a series of drives that BJP-led governments across Indian states have initiated against Muslims they accuse of "instigating riots."
"We didn't receive any notice for the demolition," Haneefa told ReligionUnplugged.com. "They (the police) came all of a sudden and started dismantling our shops with bulldozers. We are targeted for our faith.
"I lost my cooking stove and skewers. My shop has been dismantled. I don't have any means of livelihood now."
Dozens of other Muslim properties have been demolished in similar "anti-encroachment" drives in recent weeks in New Delhi and the BJP-ruled states of Madhya Pradesh and Gujarat. The demolitions follow Hindu-Muslim violence that has erupted amid Hindu festivals, where deities are sometimes paraded through the streets in public celebrations. Processions of Hindu devotees brandishing sticks and knives, playing incendiary music and raising provocative anti-Muslim slogans marched through Muslim neighborhoods in several cities on the festival day, which led to violence in many places.
"It was our fast-breaking time," said Dilshad, a 25-year-old factory worker who witnessed the violence in Delhi. "They (the mob) came shouting and abusing and rampaged through our colony. Thereafter, there was a clash with both sides throwing stones at each other."
Some critics of the right-wing government have argued it's the beginning of a genocide — or at least a worsening pattern of violence against the Muslim community in India, which makes up 14% of the population.
"The intention has always been to normalize hatred by demonizing a community," Pawan Khera, national spokesperson of the opposition Indian National Congress, told ReligionUnplugged.com.
Videos of Hindu mobs vandalizing mosques have been met with outrage on social media.
However, the Madhya Pradesh, Gujarat and Delhi governments have blamed the violence on Muslims and justified the bulldozing of their properties.
"If Muslims carry out such attacks then they should not expect justice," said Narottam Mishra, home minister of BJP-ruled Madhya Pradesh, where at least 45 Muslim properties were razed to the ground. Mishra's comments were broadcast on NDTV, India's top news channel.
"We will turn those homes to a pile of stones, from where stones were pelted," he told the media, in a discernible reference to Muslims.
Courtesy: Religionunplugged