Good move: Ahmadis exercise their right to protest after many years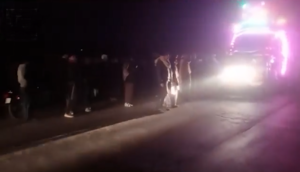 Jamaat-e-Ahmadiyya exercised their right to peaceful protest after several decades against the arrest of the principal of one of their educational institutions at Chanab Nagar the other day.
Several dozens of members of Anjuman Khuddamul Ahmadiyya, an auxiliary body of the JA, assembled at the front of the Chenab Nagar police station and chanted slogans against the 'high handedness' of the police. The protest at the police station brought traffic on the Chiniot-Sargodha Road to a halt for several hours. They were of the view that Mubarak Ahmad was not nominated in the FIR therefore there was no justification for his arrest. They termed the arrest as illegal and demanded the authorities release him. However, the police presented him before the duty magistrate and took his physical remand for two days to interrogate him.
It is worth mentioning that Jamaat-e-Ahmadiyya never lodge any protest nor exercised their right to vote since the 1970s when they were declared as non-Muslims by the parliament. They are of the view that being a tiny community they do not want to get exposed to potential attacks by protesting and making the identity of their members public.
Mubarak is arrested in connection to an FIR registered in June 2022 under section 295B, 298C of the Pakistan Penal Code and section 9-1 of The Punjab Holy Quran (Printing and Recording) Act 2011.
Khalid Ahmad Shah, Malik Khalid Masood, Mirza Afzal Ahmad, Saleemudin, and Amatul Quddoos were nominated in the FIR. The FIR was registered on the complaint of Hassan Muavia, self-claimed secretary general Tahafuz Khatam-e-Nabuwwat Forum Pakistan and a key element behind several cases registered against Ahmadis in Punjab for the last eight years.
The complainant alleged that the administration of the Jamaat-e-Ahmadiyya held a ceremony of Madressatula Hifz, Ayesha Academy, Chenab Nagar, on March 07, 2019, where they distributed copies of the Holy Quran with 'altered translation'. He alleged the version of the Holy Quran distributed at that ceremony was banned by the Punjab home department in 2016. The complainant said he has been trying to get the circulation of the alleged altered translation blocked but to no avail. Following his writ petition, the Lahore High Court had earlier directed the relevant institutions to take action against the publishers and all other responsible persons of the Jamaat-e-Ahmadioyya.
A lot of anti-Ahmadi forums based in Pakistan are using social media to spread hate against Ahmadis by accusing them of launching a violent protest. However, according to the Chenab Nagar police, there were 150 protesters but they did not take the law into their hands. They peacefully protested and dispersed after a few hours. According to some Jamaat sources, the protest was launched on instructions of Sadar Umoomi.