American court declares Ahmadi leader as sex offender for assault of a minor boy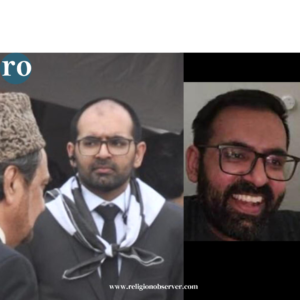 Apart from giving him six and a half years jail term, a US court has ordered to register the Ahmadi leader as sex offender in accordance with Chapter 62 of Texas Code of Criminal Procedure.
Judge Sherry Shipman of Denton County court awarded him this sentence on August 5 as the pedophile Ahmadi leader and teacher Muneeb Ur Rehman confessed to his crime of repeatedly raping a 14 years old boy of his congregation on different occasions between March 2018 and March 2020.
Muneeb's being registered as a sex offender means he would be prohibited from living within 1000 feet of a residence where minors live. He would also be restricted from moving into a home nearby a daycare, playground, youth centre, school or park. Under Texas laws, if a convicted sex offender violates such rules or other terms of their supervision, he can face even more penalties. The law also prohibits landlords from knowingly renting a residence to a sexual offender within 1,000 feet of a place where children gather.
Muneeb was convicted of six charges, including three charges of sexual assault of a child and three charges of indecency with a child by sexual contact. The same charges against Muneeb are pending trial in Harris County where Muneeb is planning to plead guilty too to get a concession in the sentence.
The crimes took place between March 2018 and March 2020 when the convict was working on an assignment from Jamaat-e-Ahmadiyya to oversee boys between seven to 15 years of age at Ahmadi Bait-ul-Ikram Mosque, Dallas city of Texas.
He was arrested on May 11, 2020, and was later released on bail after furnishing a $100,000 surety bond. His bail was cancelled and the surety bond forfeited for his failure to appear before the court and he was declared an absconder. He was arrested and put behind bars. A district court granted him bail on June 13 against a bail bond worth $3 million but he has not furnished the bail bond so far and therefore he was still in jail. His trial in Collin and Harris counties will start later. He is from Canada and his passport is in police custody.
The convict groomed the 14-year-old boy under his care. Over the course of at least 11 documented encounters, Muneeb sexually abused the boy at his apartment, in his car, and during community events and on youth group trips, they both attended. During this time, the victim was appointed Nazim Atfal (head of boys aged seven to 15) on July 21, 2019, while the convict was in his immediate supervision when he was posted as Motamid Khuddam.
Upon learning about the grooming and sexual assault, the victim's family complained to the police and Muneeb was arrested on May 11, 2020. He was subsequently removed from the post of Motamid Khuddam. Muneeb was appointed as Motamid Khuddam in Fall 2017 while he was given the assignment of teaching Sunday School classes in Fall 2019 and continued in these roles until his arrest in May 2020.
Ahmadiyya Community head visiting Dallas
Jamaat-e-Ahmadiyya central leader Mirza Masroor Ahmad, who is based in the UK, is scheduled to visit Dallas city during first week of October. Rumors are rife within the US Ahmadiyya community that the leader would meet the victim's family to redress their grievances however when contacted by the Religion Observer, the father of the victim said no one from the  Jamaat has contacted them in this regard so far.
For the arrival of their leader, the US Jamaat is arranging a backup electricity supply and have hired a private company which is making arrangements in this regard. For continuing these arrangements, no Friday prayer could take place in these mosques, said an Ahmadi living in Mary Land. On condition of anonymity, he said a hefty amount of money is being spent to make alternative electricity arrangements even though there is very low to no chance of electricity interruption in the US.