Ahmadi man stabbed to death in Rabwa for not chanting 'Labbaik ya Rasool Allah'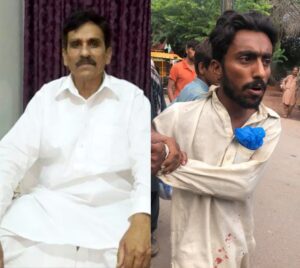 An Ahmadi man was stabbed to death allegedly by a religious extremist on Friday morning at the bus station of Rabwa, headquarters of Jamaat-e-Ahmadiyya in Pakistan.
According to the details, 62-year-old Naseer Ahmad was at the bus stop when accused Shehzad Hasan, approached him and asked him to chant "Labbaik Ya Rasool Allah" and "Khadim Rizvi Zindabad", the iconic slogans of Tehrik-e-Labbaik Pakistan. Reported, on the denial of the victim, the accused attacked him with the knife shouting "Whosoever Abuses the Holy Prophet (P.B.U.H) Should be Killed" and stabbed him repeatedly. The victim was rushed to a hospital where he was pronounced dead. The attacker was overpowered by the onlookers and later was handed over to the police and booked under murder charges.
According to details given by the Jamaat-e-Ahmadiyya in its press release, the accused, Hafiz Muhammad Shahzad Hasan Sialvi Rizvi, is a resident of a village close to Silanwali in the district of Sargodha. In the vicinity of Police Station Muhammad Wala, he enrolled in the Madrassa Anwar-ul-Quran in 2005 and completed his studies in 2010.
The statement said the deceased belonged to the Rabwah colony of Dar-ul-Rehmat Shargi. He left a widow and three daughters.
The statements aid Ahmadis in Pakistan do not believe they are safe as a consequence of the launching of a hate campaign against them.