Ahmadi 'Gay' MP's Sexual Assault Trial Starts Next Week In England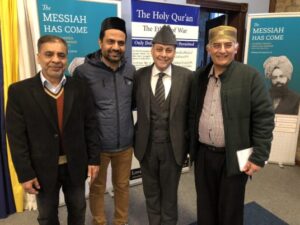 Trial of Imran Ahmad Khan, 47, the Conservative MP for Wakefield, on charges of sexually assaulting a 15-year-old boy in 2008 in Staffordshire would start next week.
On December 16 last year, Khan appeared at the Old Bailey in London via video-link and the case was transferred to Southwark Crown Court where his two-week trial has been scheduled to start on Monday (21 March). The defendant, who is on unconditional bail, has been suspended by the Conservative Party and sits in the Commons as an independent.
After his elections, Jamaat-e-Ahmadiyya UK had congratulated Khan. Its official Twitter handle – @AhmadiyyaUK – on December 13, 2019, said, "Congratulations, best wishes and prayers for success in building a peaceful world to @imranahmadkhan, on becoming Member of Parliament for Wakefield. Imran Ahmad-Khan is the first-ever member of Ahmadiyya Muslim Community elected as a Member of British Parliament."
Khan's father belonged to Khyber Pakhtunkhawa province of Pakistan and had moved to England. He denied the allegation "in the strongest terms", saying "I am innocent" in a statement posted on Twitter. He was elected at the 2019 general election.
The charge, which was read out in court, states: "In the county of Staffordshire you intentionally touched a boy aged 15 and that touching was sexual when he did not consent and you did not reasonably believe that he was consenting, contrary to Section 3 of the Sexual Offences Act 2003."
In the wake of his election, the LGBT+ Conservatives had celebrated the election of Imran Ahmad Khan, who was thought to be the first out gay 'Muslim' MP in the world. The LGBT+ Conservatives celebrated his victory because he had applied to receive support from the group's LGBT+ candidates' fund, which is intended to increase representation in Parliament. A condition of applying for the fund is identifying as LGBT+ and being "out" of the closet. However, when the news of him being gay was widely published Khan said that reports about his sexuality are incorrect. In a statement, the LGBT+ Conservatives said: "We have been made aware that the application made in his name to the LGBT+ Conservatives Candidates' Fund, which only supports 'out' LGBT+ candidates standing for election, was done in error".