Ahmadi gay MP faces another allegation of sexual assault in UK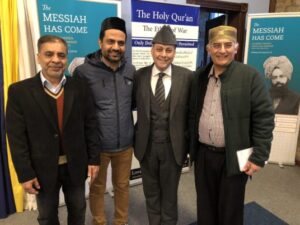 Gay Ahmadi member of the UK Parliament Imran Ahmad Khan, who is on trial for sexually assaulting a 15 years old boy, faces another allegation of performing a sex act on a sleeping British aid worker in Peshawar, Pakistan, where they were working on a Foreign Office funded program in November 2010.
Testifying before the jury on Monday, the aid worker said he did it after giving him a sleeping pill as they shared a room in a guest house in the city of Peshawar. He said he later woke up to find Khan was performing a sex act on him, having pulled down his boxer shorts. He added: 'I pushed him off and told him to stop and said something along the lines of, "What the f*** are you doing?"' The victim was in his early 20s on the time of the alleged incident.
He said he had reported the incident to the British High Commission and the Foreign Office but did not want to go to the police in Pakistan because of Khan's 'powerful connections' in the military and government.
The alleged victim came forward as a witness after hearing Khan had been charged with sexual assault, the court heard. The man said that before the alleged incident: 'There were definitely times when he got drunk after a few gin and tonics for example.' He said Khan's homosexuality was an 'open secret' and the MP would sometimes act 'quite flirtatiously' or 'tickle' him. Jurors heard that on the night of the alleged sexual assault Khan and the man had been at a party where everyone was drinking whisky.
Asked if he had been smoking marijuana, the witness said: "I think generally at these types of events, if it had been there, both Imran and I would have had some." Khan's counsel said her client did not like marijuana or the smell of it but the man said: "He has definitely smoked in front of me in the past."
The MP, who is gay and an Ahmadi, claimed he only touched the Catholic teenager's elbow when he 'became extremely upset' after a conversation about his confused sexuality.
The trial of Imran Ahmad Khan, 47, the Conservative MP for Wakefield, on charges of sexually assaulting a 15-year-old boy in 2008 in Staffordshire started March 21.
On December 16 last year, Khan appeared at the Old Bailey in London via video-link and the case was transferred to Southwark Crown Court where his trial was scheduled. The defendant, who is on unconditional bail, has been suspended by the Conservative Party and sits in the Commons as an independent.
After his elections, Jamaat-e-Ahmadiyya UK had congratulated Khan. Its official Twitter handle – @AhmadiyyaUK – on December 13, 2019, said, "Congratulations, best wishes and prayers for success in building a peaceful world to @imranahmadkhan, on becoming Member of Parliament for Wakefield. Imran Ahmad-Khan is the first-ever member of Ahmadiyya Muslim Community elected as a Member of British Parliament."
Khan's father belonged to Khyber Pakhtunkhawa province of Pakistan and had moved to England. He denied the allegation "in the strongest terms", saying "I am innocent" in a statement posted on Twitter. He was elected at the 2019 general election.