Ahmadi gay ex-MP sentenced to 18 months over sexual assault of boy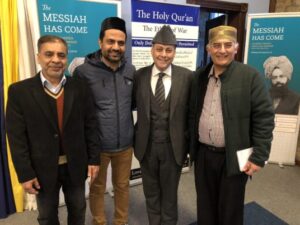 The former UK MP Imran Ahmad Khan, a gay and an Ahmadi by religion, has been sentenced to 18 months in jail for sexually assaulting a 15-year-old boy after plying him with gin at a party in 2008.
The 48-year-old was expelled from the Conservative party and later resigned from the Commons after he was convicted last month following a trial at Southwark crown court.
The judge, Mr Justice Baker, said Khan should serve 18 months, "half on custody, released on license for the remainder of the term, subject to recall should you commit a further offence".
Baker said the usual starting point for a sentence would be between two and four years' custody. His sentence took into account the psychological harm caused to the complainant and his vulnerability, after his mother said he had not been "worldly wise" for his age.
He said: "I do not accept you have remorse, rather the only regret you feel is towards yourself for having found yourself in the predicament you face as a result of your actions."

The judge gave a lesser sentence in light of an absence of previous convictions. He acknowledged that he may not have known the complainant's age, and accounted for Khan's ill health and the fact he is a registered carer for his elderly mother.
Describing the events, the judge said the offence had taken place when Khan was aged 34, late at night on 8 January in 2008 in the complainant's bedroom, while he was a guest staying the night in the family's home after a party.
He noted that the family placed their trust in him after guests had been led to believe he was "some form of foreign royalty", based on an in-joke among friends that his long name meant his grandfather had been a tribal chief in Pakistan – "a title you clearly enjoyed and did nothing to discourage".
Related:
He described how Khan was permitted to share a bedroom with the 15-year-old and his younger brother, where he tried to persuade the boy to drink a gin and tonic by pushing it into his mouth, and invited him to watch pornography on his laptop. When the boy refused and climbed into his bunk bed, Khan reached up to feel around his legs and groin area "despite the complainant repeatedly moving his body away".
The complainant ran to his parent's bedroom, where his mother recalled that he was "shaking" and his father said "he was inconsolable". The younger brother said the boy "was crying in a manner he had never cried before".
The judge declined the request for a suspended sentence from Khan's QC (Queen's Counsel), Gudrun Young, who argued he had already been punished by the high profile nature of the case, which had left his life and reputation "in ruins".
She said that if the trial had taken place 14 years ago it would have occurred before he held public office, and the absence of press interest would have allowed him to rebuild his life.
"The prospect of him committing further offences is vanishingly small," she argued, adding: "There is no sentence this court can impose, whether days, weeks or years, which can come close to how he's already been punished and will continue for the rest of his life. He can never escape this, he will always be known as a disgraced former MP."
Mr Khan claimed he only touched the Catholic teenager's elbow when he 'became extremely upset' after a conversation about his confused sexuality.
After his elections, Jamaat-e-Ahmadiyya UK had congratulated Khan. Its official Twitter handle – @AhmadiyyaUK – on December 13, 2019, said, "Congratulations, best wishes and prayers for success in building a peaceful world to @imranahmadkhan, on becoming Member of Parliament for Wakefield. Imran Ahmad-Khan is the first-ever member of Ahmadiyya Muslim Community elected as a Member of British Parliament." The Tweet is deleted since Khan has been convicted.
Khan's father belonged to Khyber Pakhtunkhawa province of Pakistan and had moved to England.